Sitting outside with friends and family, enjoying a light and vibrant curry while sipping cold refreshing beverages and topping off with favourite Indian sweets for a satisfying meal is the ideal Indian summer scene. This is the epitome of pleasure.
India's culinary is abound in summer-appropriate dishes, when it comes to a colder dessert offering, allowing you to make the most of the hot days, whether it's a creamy sorbet, a liquid-based sweet, or an indulgent dessert with iced sugar syrup. If you are one of the sweet-toothed people who love to indulge in surgery delights, this blog is your guide to a perfect summer.
24 Carat Mithai Magic is going to be your go-to place, sitting anywhere across India, for doorstep delivery of your favourite sweets. Here is our list of sweets that we can not wait to indulge in, this summer:
Ice Halwa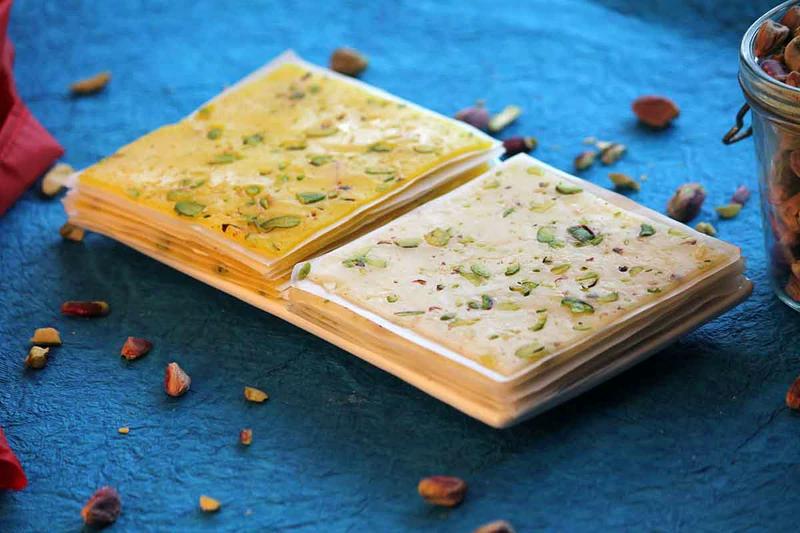 A sweet delicacy famous across India, Ice Halwa definitely tops our list. The saying "Don't judge a book by its cover" could not be more applicable to ice halwa, as it is not composed of ice. While the thought of a chilly halwa dish may catch your attention, ice halwa is rather a delectable variation on the classic dish, and its colour and preparation are what give it its name. Because it is powdered with icing sugar, ice halwa is ivory in colour. Because the combination is rested for up to four hours before serving, it has a thick, creamy and satisfying texture.
Kaju Gulkand
A sugared rose petal delicacy, that gives us major chills is definitely one of the most favoured sweets across India. When combined with Kaju, Gulkand forms one of the most favoured delicacies. Apart from being tasty enough, in the summer, Gulkand can actually prevent sunstrokes, nasal bleeding, and drowsiness.
Real Mango Magic Halwa
How could Mango Halwa not be a part of our favourite summer sweet? Consisting of real mango, capturing the real essence of Indian summers, Mango Halwa is a fragrant and scrumptious Indian sweet pudding that's perfect as a snack or after-meal dessert.

Rasgulla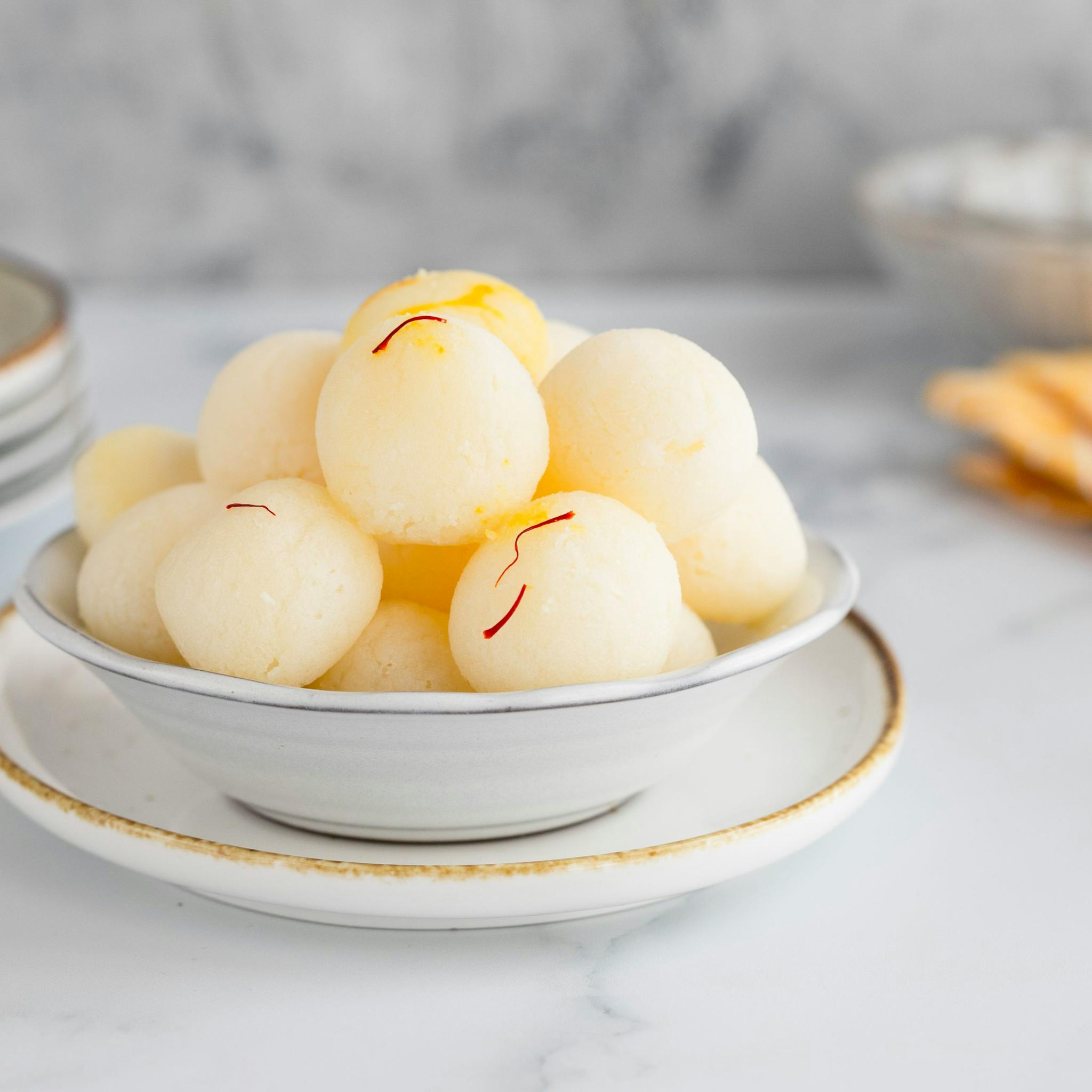 It's difficult to say whether the syrup-soaked balls or the rich, sweet syrup itself are the most wonderful part of this dish! Made all over the Indian Subcontinent, but love the most by Bengalis, these little balls are cooked in water until light and spongy, then soaked in sugar syrup. Because the balls are chilled for a couple of hours before serving, you may make this ahead of time and cherish it.
Rasmalai
In the popular ras malai, soft, spongy dumplings made of chenna or paneer are soaked in thick, creamy milk. For summers, allowing yourself to have a bowl of this delicious sweet to treat yourself does no harm. Very few sweets are as delightful as chilled ras malai with saffron and cardamom infusion.
Sutarfeni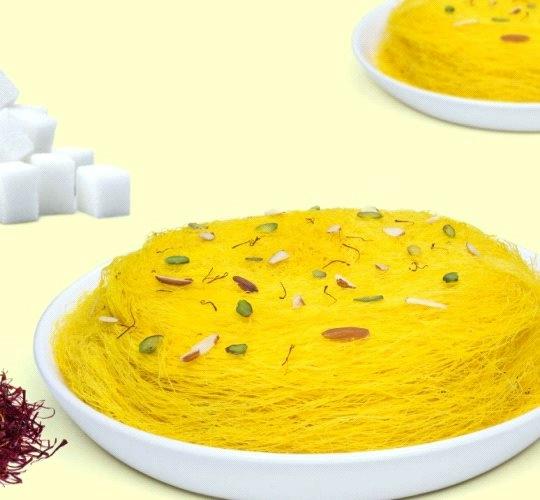 The feeling of sweetness melting in your mouth naturally, leaving you feeling mesmerised in this summer air. Sutarfeni is just one of those dishes that make you drool instantly in these hot summers.

Berry Delight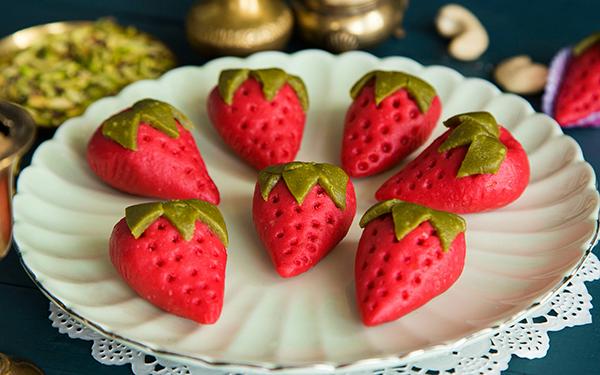 What's better than indulging in some berrylicious delights? Stuffing your mouth with berry flavoured sweets can really bring in the feels. Ranging from varieties of berries out there, strawberry is one of our favourites and when it comes to a sweet, what better can you ask for?
Apart from the listed sweets, there are so many other sweets that give us lip-smacking satisfaction, when eaten with the right kinds of combinations. Ranging from special orange, pineapple, raspberry and many other summer fruit sweets to our all-time favourite Kaju Katri in different flavours, along with other dry fruit sweets 24-carat mithai shop has got you covered for all. Bengali sweets like rajbhog, and different types of Rabdis, hit differently in summer while pure desi ghee sweets like Mohanthal, Motipak, and Dahithara give you the energy to beat this summer heat. Pair our sweets with icecreams or chilled drinks and enjoy the hot summer days from the comfort of your home.
If this blog left you craving some really fun summer sweets, do share this blog with your friends and family to give them some cravings too. Cannot wait to see how you plan to reward your tastebuds this summer.