Looking for a delicious way to celebrate a special occasion? Or maybe you just have a sweet tooth that needs satisfying? Either way, you're in luck! Atlanta is home to some of the best sweet shops around, and we've got the 5 best places to Order Indian Sweets Online in Atlanta. So sit back, relax, and let your taste buds take you on a flavour journey!
Why Indian sweets?
Are you in the mood for something sweet, why not try an Indian sweet? Indian sweets are known for their unique flavour and mouth-watering taste. Plus, they're available online and at many Indian sweets shops near you.
So, what makes Indian sweets so special? First, they're usually made with a variety of spices, which gives them their distinct flavour. Second, they often contain fresh fruits and nuts, which add to their texture and taste. And third, they're usually made with a type of milk called khoya or condensed milk, which gives them a rich and creamy taste.
If you're looking for something sweet and delicious, be sure to try an Indian sweet!
Here are five of the best websites to order Indian Sweets from:
Now you can get your favourite sweets from India without even leaving Atlanta! With 24 Carat Mithai Magic, all you have to do is order online and we'll take care of the rest.
From laddoos to barfi, our selection of Indian sweets is sure to satisfy your sweet tooth. And with our convenient online ordering, you can have your sweets delivered right to your door.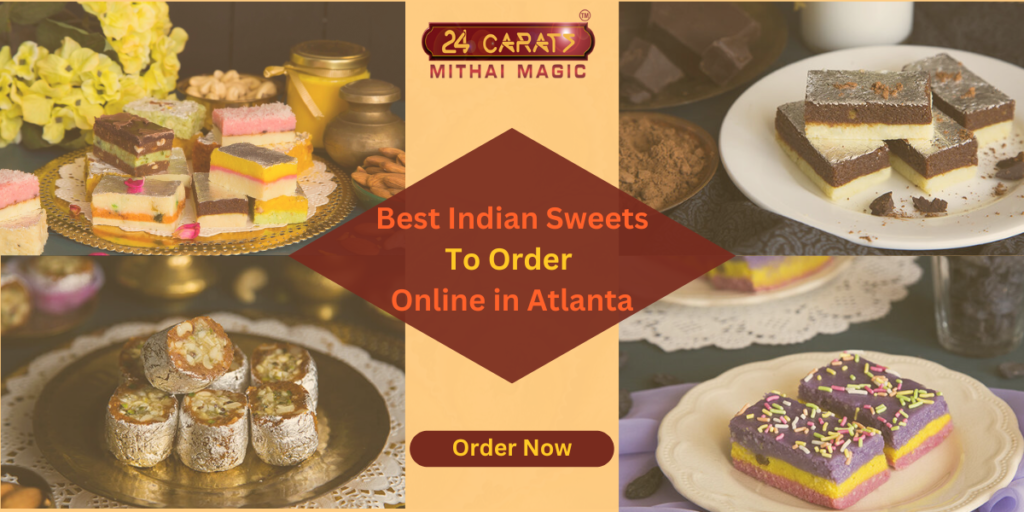 Here are just a few of the types of sweets you can order from 24 Carats:
Dry fruit sweets are the perfect way to enjoy the sweetness of fruit without all the sugar. Ordering sweets online from India is easy and convenient, and you can find a wide variety of dry fruit sweets to choose from. Whether you want to try something new or stick with a classic, there's a dry fruit sweet for everyone.
Here are some of the most popular varieties of dry fruit sweets:
There are many types of Mawa Sweets that you can order online from India. Some of the most popular ones include:
Looking for a unique gift idea? How about a box of assorted sweets? You can order these online and have them delivered right to your door.
There are a variety of different boxes to choose from, each filled with an assortment of delicious treats. Whether you're looking for something chocolatey, fruity, or nutty, there's sure to be a box of sweets that's perfect for you.
For various events and festivals, we provide more than 6 distinct varieties of Indian Assorted Boxes for order online, including:
So why wait? Order your favourite Indian Sweets today and let 24 Carat Mithai Magic bring the flavour of India to you!
2. Royal Sweets Atlanta
Looking for a delicious way to celebrate a special occasion? Or just in the mood for something sweet? Whatever the reason, Atlanta's Royal Sweets Website has the perfect treat to satisfy your craving.
From traditional Indian sweets like gulab jamun and jalebi to Western favourites like cookies and cake, there's something for everyone at Royal Sweets. And the best part is that you can order online and have your sweet treats delivered right to your door!
So what are you waiting for? Order your sweets today from Royal Sweets!
Maruthi Foods, South Indian Trading and Vegetarian Catering business was started in Atlanta, since 2008. We trade different varieties of pickles, sweets and snacks to Indian grocery stores throughout Atlanta.
The variety of Delectable Sweets from Maruthi Foods includes:
– Laddu
– Mysore Pak
– Kajji Kayalu
– Ravva Laddu
– Burelu
There's something for everyone at Maruthi Foods. So what are you waiting for? Head over to Maruthi Foods today and treat yourself to something sweet!
Looking for a unique and scrumptious treat? Check out Atlanta's own Native special to order sweets online. This website offers delightful confections that are perfect for any occasion.
From Cherokee Rose Petal Jam to Smoked Blueberry Honey, there is something for everyone to enjoy. The talented team at Native special orders sweet online handcrafts each item with love, care, and attention to detail.
You won't be disappointed with these gourmet goodies – they are sure to please your taste buds! So what are you waiting for? Place your order today and enjoy some of the best sweets in Atlanta!

In Hyderabad and Secunderabad, India, there is a family-run sweet and savoury business called Almond House. Almond House has expanded significantly over the past 30 years and developed a reputation for serving high-quality products made with only pure ghee. It is well known for its superb craftsmanship and provides an experimental kitchen so that customers may learn more about how Almond House operates.
Almond House takes great satisfaction in being the party and celebration tastemaker, and it consistently upholds this claim. Every time you go to one of its stores, you may try something new because it is continually innovating in its selection of products. To ensure that you receive only the best goods, the business works for purity in both its manufacturing method and its ingredient selection.
You can be confident that the sweets you purchase from Almond House are produced solely from pure ghee and will thus have all the natural tastes and aromas. The company has expanded its empire of sweets and savoury foods while simultaneously being ecologically conscientious, reducing its dependence on single-use plastic and fossil fuels.
What Products is Almond House selling?
Almond House has a wide range of products to fit any event or just to sate your sweet craving. Whether you live in the USA or Canada, its product line was meticulously crafted to give you the best items available. These goods transport you back in time, bringing to mind the rich flavour and culture of India. Almond House sells a variety of well-known sweets and savoury foods, such as Bobbatlu, Kaju Katli, Bisticks, Motichur Laddu, Pootharekulu, Masala Palli, Baklava, gift baskets, and much more.
The Best Website to Order Indian Sweets in Atlanta
So, the best Website to Order Indian Sweets in Atlanta is 24-carat. The shop has a variety of sweets that are all made with the highest quality ingredients. The staff is always friendly and helpful, and they're always willing to answer any questions you may have. If you're looking for an amazing Indian sweet treat, 24-carat is the place to go.