India, a country which will never fail to wow you with its diverse culture, old monuments, and stunning architecture. But one more thing we Indians are famous with are our delicious mouthwatering sweets.
If you want to join me on this journey of experiencing sugary delightful sweets aka mithai from numerous locations across India keep reading this blog!
It is no secret that we Indians have a sweet taste and many tourists travel only to participate in a gourmet tour, see various food locations, and encounter the delectable cuisine of multiple areas.
This list includes treats from various sections of India, representing different cultures and beliefs. Prepare yourself for a diabetical and exciting culinary adventure.
Gulab Jamun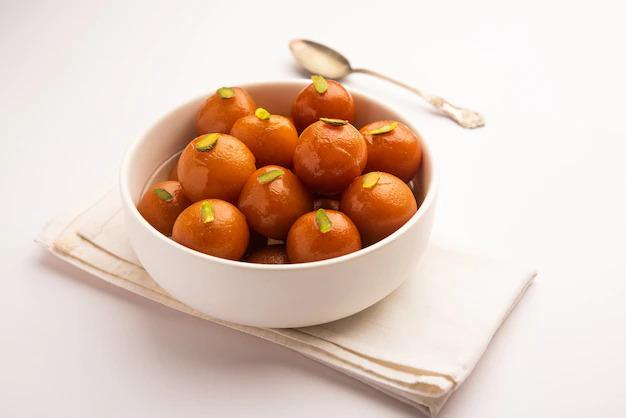 Let's start with Gulab jamun, a soft delicious berry sized ball made with milk solids, flour & a leavening agent. These are soaked in rose flavored sugar syrup. If you eat one, you will end up wantting to eat them again and again!
Gulab Jamun has a brownish tint and may be eaten hot or cold, according to your preference.
Place of Origin: Its origins are in Punjab, Jammu & Kashmir, Haryana, Himachal Pradesh, Uttar Pradesh, and Uttarakhand, where it is a common accompaniment at festivities and celebrations.
Kulfi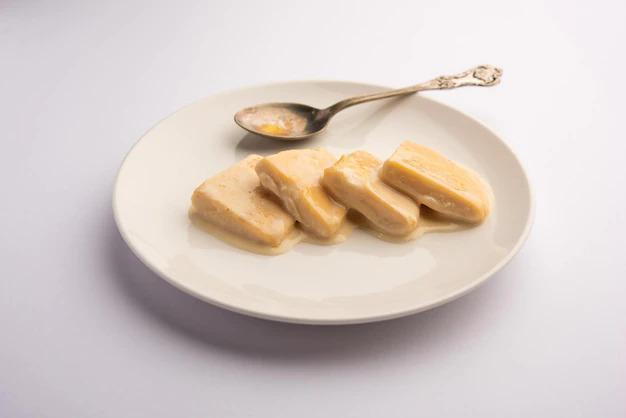 Let's talk about the Indian version of Ice Cream, "Kulfi"!
Extremely popular among teenagers and young adults, it's created with whole milk, powdered sugar, cardamom powder, and comes in delectable flavors like strawberry, mango, Kesar, raisins, and almonds.
Kulfi is rich and creamy, and it comes in clay pots or on popsicle sticks. It's simple for you to make, typically done at home during parties, marriage ceremonys and festivals.
You need to take the molds out of the freezer 10-15 minutes before serving. It is just to enable the kulfi to melt somewhat. We Indians like that dripping Kulfi and we believe that it adds to a layer. You can also add toppings like ground cardamom, saffron, or pistachios according to your preferences and flavored touch. Falooda (vermicelli noodles) is also sometimes served with kulfi.
Place of origin: India during the Mughal period

Rasgulla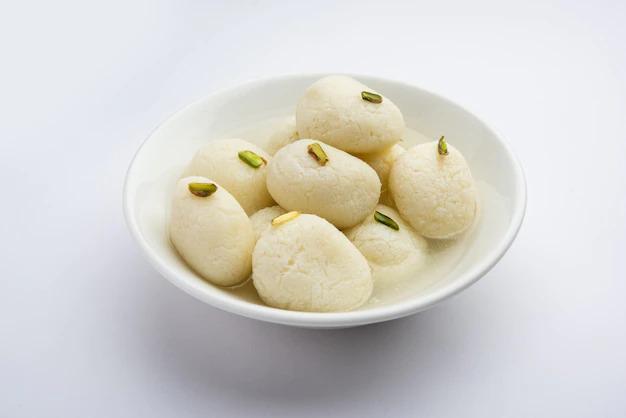 Rasgulla or Roshgulla (for all my fellow Bengalis out there) is a Bengali dish that is widely consumed throughout India. The first thing that will come to your mind after eating this sweet will be its fluffiness and how quickly it will melt in your mouth.
Ideally within a week Rasgulla should be consumed after removing the packaging.
Rasgulla is often mixed with sugar syrup to give it that extra fluffiness. You can also use rose water to give it a distinct flavor and richness.
Place of origin: Orissa, West Bengal
Milk Peda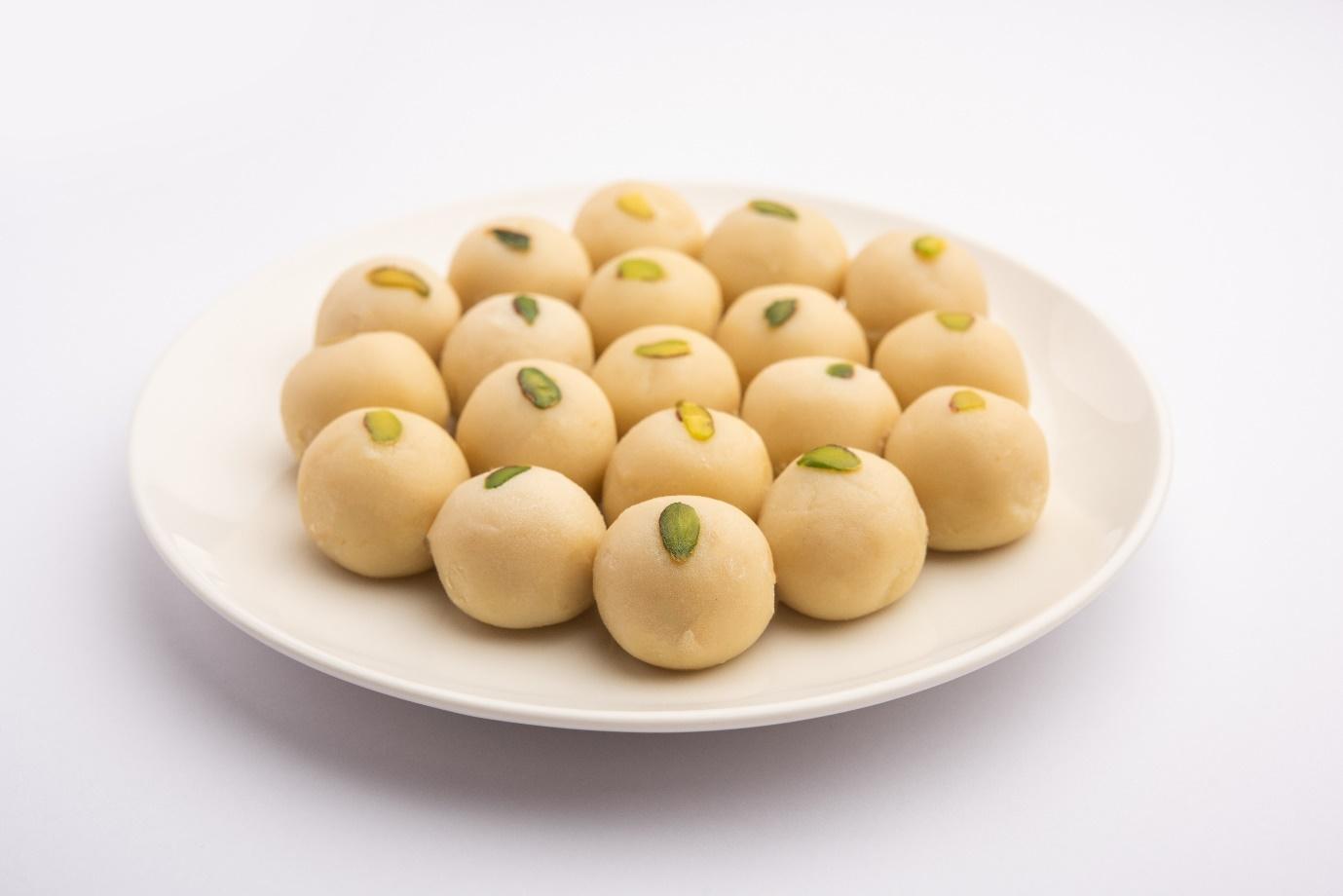 The milk peda is a popular dessert, and numerous variations may be found around the country. Paneer or khoya, condensed milk, milk powder, chopped pistachio, cardamom powder, saffron, and ghee are common ingredients in peda. Peda is generally served after lunch or dinner.
Pedas originated in the present-day Uttar Pradesh city of Mathura. The Mathura Peda is the city's most well-known variation. Several other variations of Pedha include Kandi Peda from Satara, Maharashtra and dood peda from Nandini Milk Co-operative in Karnataka.
In a nutshell Pedha is your milk sugary dish which will never disappoint you whatever variation you might eat.
Place of origin: Mathura, Uttar Pradesh
SeviyanSeviyan are a classic sweet consisting of vermicelli and dried fruits in a Muslim family. The significant components are Vermicelli, sugar, cashew nuts, almonds, raisins, saffron, green cardamom, milk, and butter. The vermicelli is boiled in milk with the addition of dried fruits. The dish Lachha Seviyan is popularly consumed during Eid festivities.
Place of origin: Punjab
Shrikhand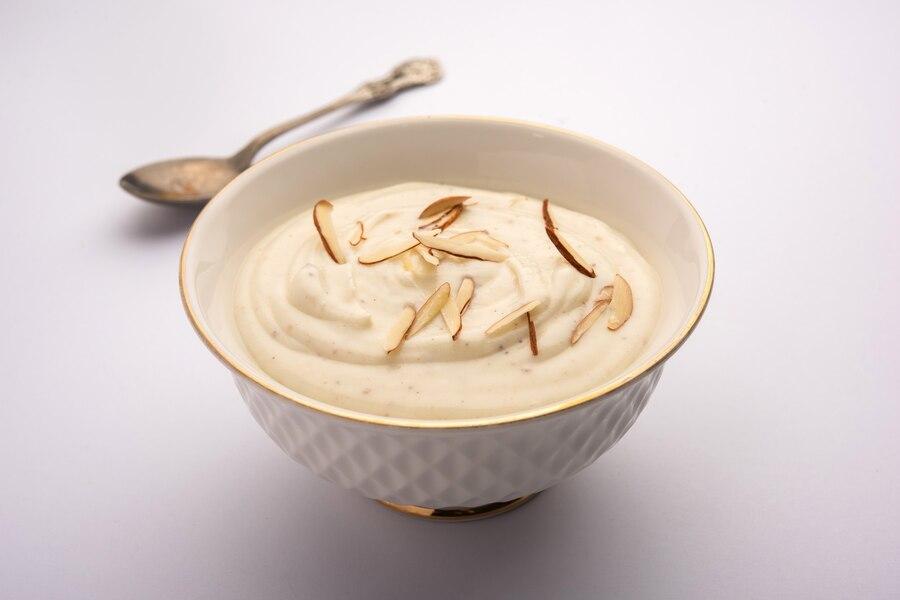 Shrikhand, also known as Green Yogurt, is a renowned Maharashtra and Gujarat delicacy. Strain yogurt, sugar, saffron, and cardamom go into this delectable dessert. Visitors love the creamy, velvety dessert, affectionately known as 'ambrosia of the gods.'
Shrikhand also comes in other flavors like Mango where it is called Amrakhand and a pistachio flavor as well. They are all rich variations that can make your hot summers a sweet delight.
Place of origin: Gujarat and Maharashtra
Gajar ka Halwa
Gajar (carrot) ka Halwa is a mouth-watering recipe and a very common household sweet that every Indian mom loves to make.
Halwa can be created with various ingredients, including pineapple, badam, watermelon, papaya, raw banana, beetroot, and pumpkin, depending on the chef's mood.
Place of Origin: It is mainly found in North India, particularly Punjab, Jammu and Kashmir, Haryana, Himachal Pradesh, Uttar Pradesh, and Uttarakhand.
Ras Malai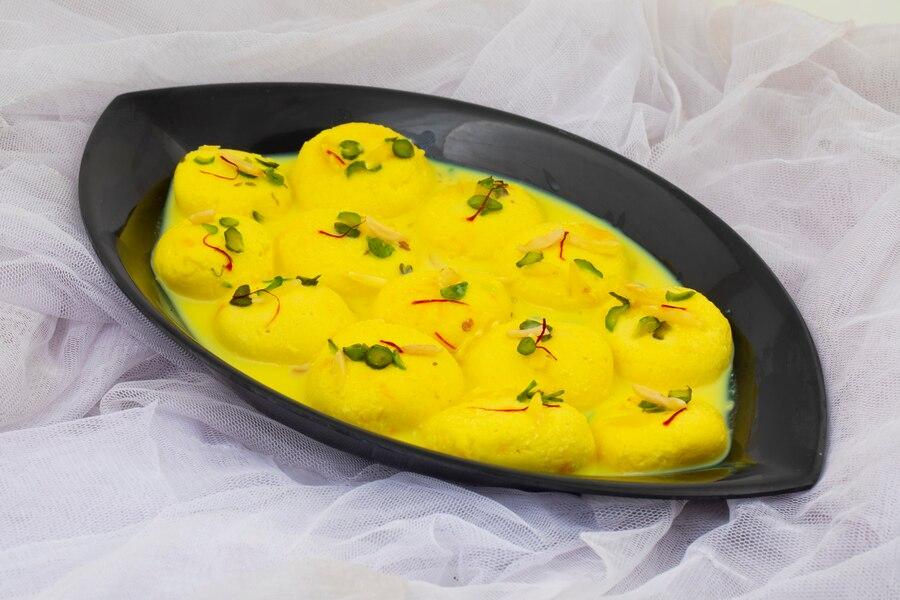 Although it's made a little differently, Ras Malai is a distant relative of rasgulla. If the sight of cheese balls drenched in creamy soapy milk and spiced with cardamom appeals to you, you will like this treat.
The flavor of Ras Malai is most refined when served cold. Ras Malai will pierce your heart like an arrow, and you'll be back for more before you know it.
Place of Origin: West Bengal
Rabdi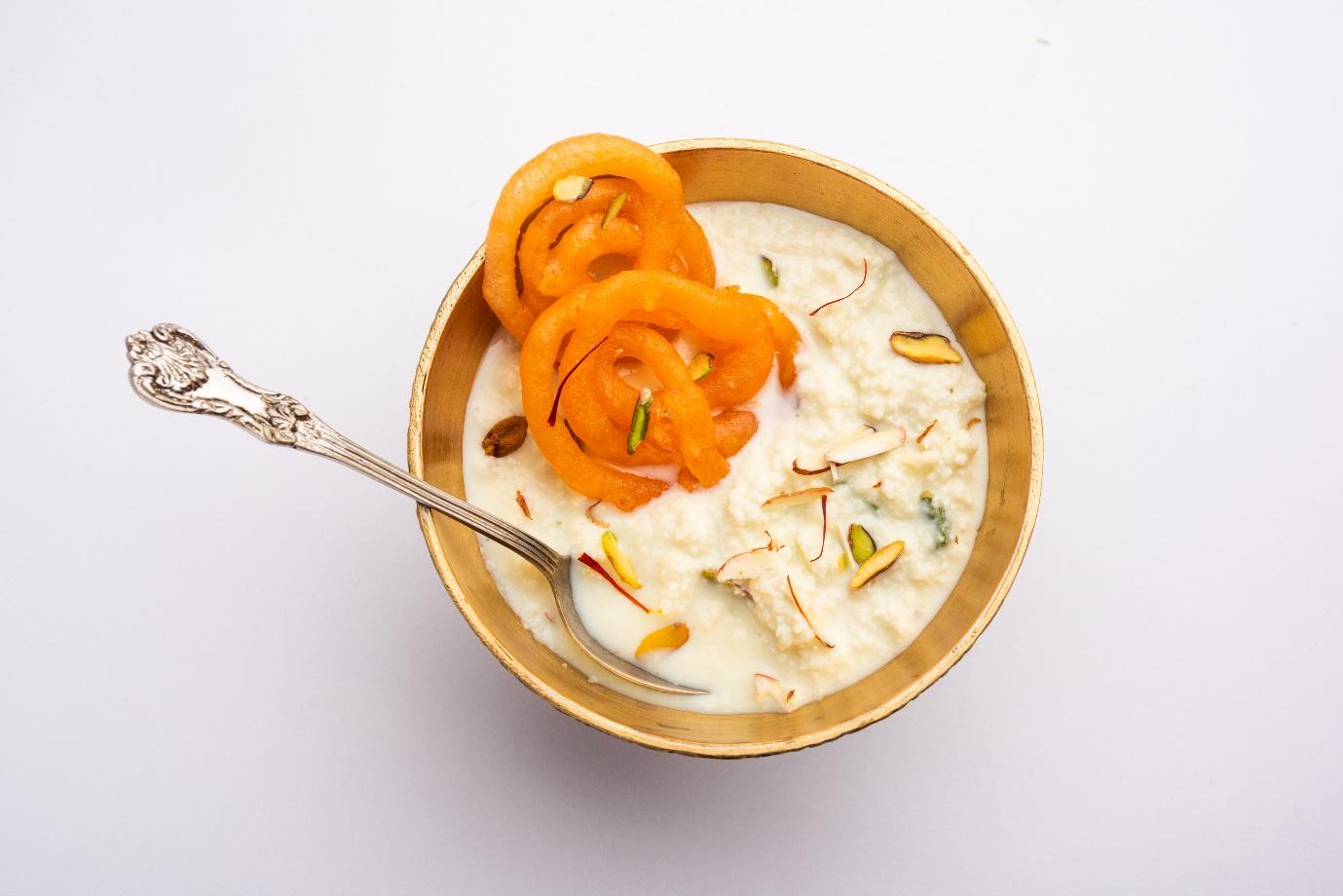 Rabdi is a creamy, decadent dessert prepared with milk, sugar, almonds, and spices.
Depending on who is eating it, the dessert is served hot or cold. It is liked by those who enjoy a drink with chunks of cream. Rabri is delicious on its own but you can also eat it with malpua or jalebis.
Sweetened milk is heated in a big open pot (kadhai) to make rabri. When a layer of cream appears on the surface of the milk, it is removed and set aside. The technique is repeated until the milk supply is depleted.
Place of origin: North India, mainly Punjab, Jammu & Kashmir, Haryana, Himachal Pradesh, Uttar Pradesh, Uttarakhand
Jalebi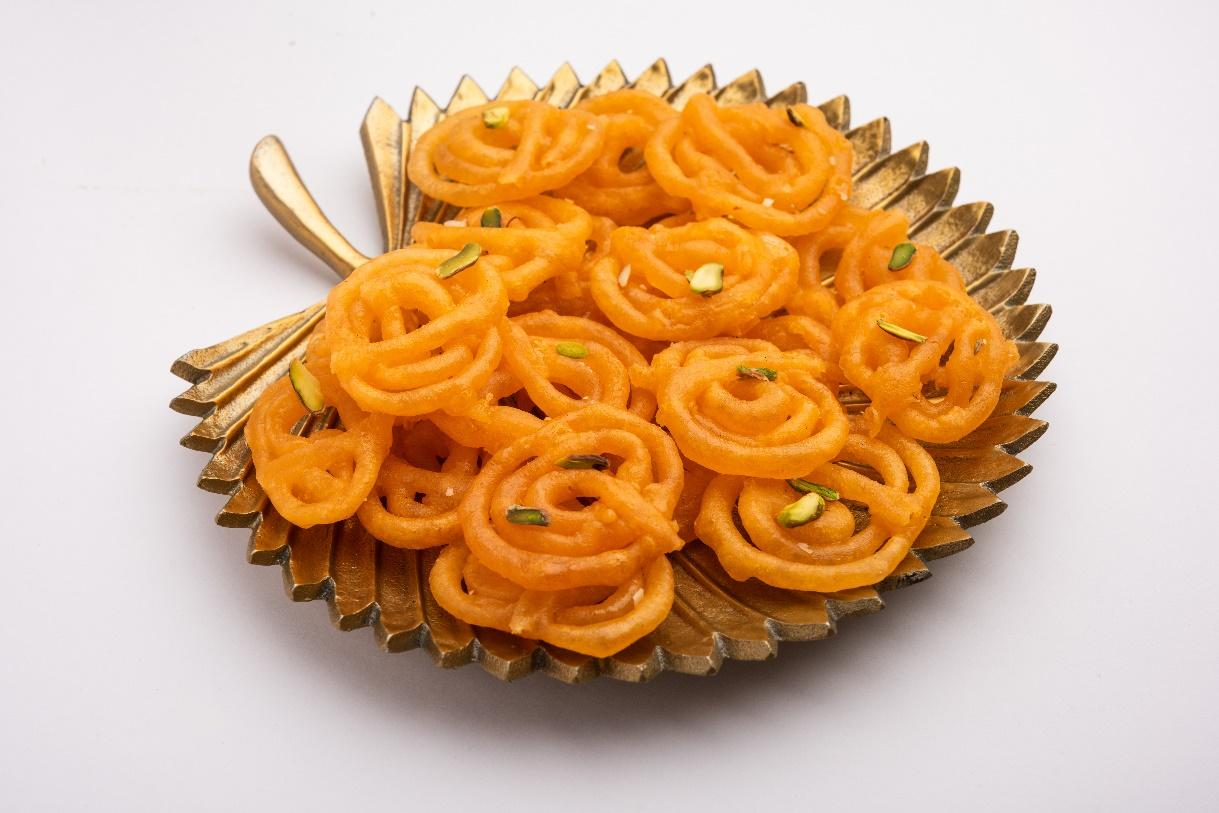 A tourist to India is unlikely to be unfamiliar with Jalebi, as it is one of the most popular sweets produced in various colors throughout the nation. Rice flour, all-purpose flour, baking powder, curd, allowed food color, vegetable oil, sugar, and water are used in making Jalebis. Depending on the color agent you can find a yellow or an orange jalebi mostly across India and adding Rabdi to it can bring even more joy to you.
Place of origin: Different variants of Jalebis are found everywhere in India
Kaju Katli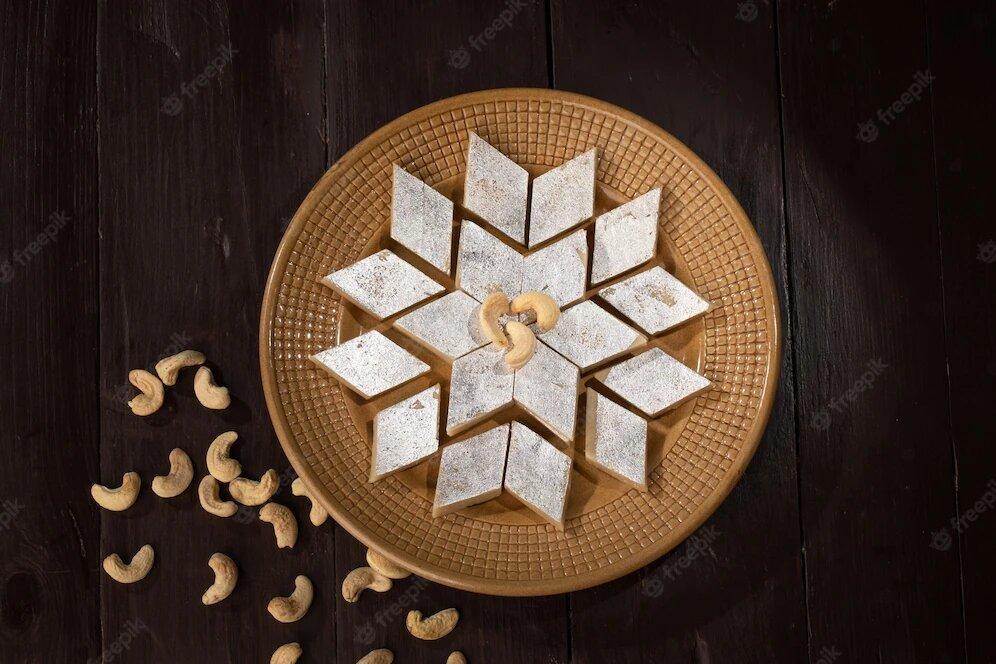 The Indian delicacy Kaju katli (meaning "cashew slice"), also known as Kaju Barfi, is similar to a barfi. Barfi is created by thickening milk with sugar and other components.
This dish will give you an exquisite and rich experience. Usually it is a dish that is served during Diwali but any festiv moment can involve this delicacy to be part of your sweet craving.

Conclusion
If this blog left you with a sweet craving, do check out our website to order them now using this link. Also share this blog with your friends and family to tell them its time to celebrate with some Indian sweets.
If you like this blog and want to read some more awesome blogs like this, please click on the link below.