Introduction: Navratri, which means "nine nights," is a popular and widely celebrated Hindu festival in many parts of India. Gujarat, on the other hand, is the only state that hosts a nine-night dance festival, possibly the longest in the world. Every night, people gather in open spaces across the state, in villages and cities alike, to celebrate Shakti, the feminine divinity.
Dusshera, also known as Vijayadashami in South India, is celebrated on the tenth day by performing a puja to bless one's vehicle and, if necessary, by purchasing new vehicles. It's also celebrated by eating a lot of fafda, a salty fried crunchy snack, and jalebi, a sweet fried sticky snack, probably after getting up much later than usual.
Navratri is observed for nine nights, beginning on the first day of the bright fortnight of the Hindu month Ashwin, roughly corresponding to September/October dates in the Gregorian calendar. This is also usually the end of the rainy season. The tenth day of Ashwin is Dasara/Vijayadashami.
This festival is celebrated in full spirit and people make and eat a lot of delicious sweets during the celebration.
24 Carat Mithai Magic offers an array of delicious Navratri sweets to order online.
24 Carats Mithai Magic has started delivering sweets across India by collaborating with various courier companies. The company is using innovative technology and an army of couriers to bring tasty treats to people who love them.
In 83 years, 24 Carats Mithai Magic has grown to comprise a classic collection of 200 traditional Indian desserts in tune with contemporary tastes and delightfully rich quality.
Varieties Of Sweets that we deliver
Gold Leaf Sweets
Laddus
Kaju Katli
Dry fruit sweets
Mawa Sweets
Pedas
Desi ghee Sweets
Ice halwa
We at 24 carats sell a variety of sweets having different tastes, textures, and essence. There is a total of more than 200 sweets that are delivered by us, but we will discuss a few of our to give you insights into what all Mithais are delivered by us to cater to all your needs regarding any family functions or festivals.
24 Carats has been serving and delivering sweets to various countries across the world. Our clients order sweets from Canada, USA, Australia, Singapore, Middle East and U.K.
Different sweets available to order online from 24 Carat Mithai Magic: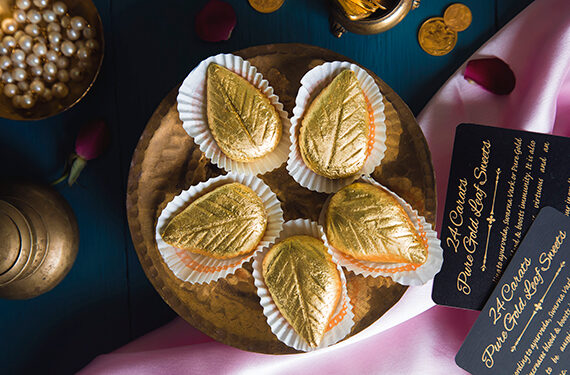 To enhance their delectability, these sweets are coated with 24-carat gold sheets/gold work. As sweets are now coated with either gold or silver sheets to satisfy their customers' aesthetic and taste preferences. These gold sheets are used to decorate the sweets, making them more appealing to eat. We have four types in this section –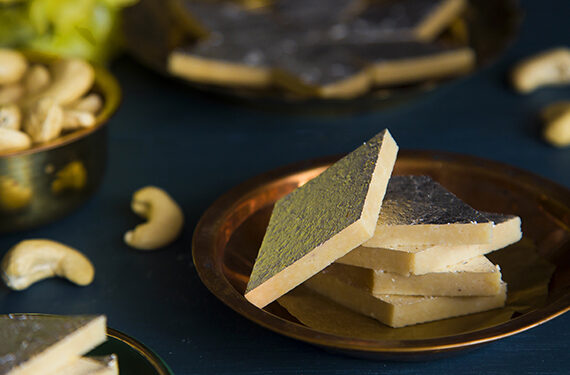 One of the most popular mithais in India is kaju katli, which is made of. Kaju powder is shaped like a parallelogram with a different type of work on top. There is a gold coat on occasion, but mostly it has a silver coating on top to beautify its existence. We have several varieties under this, but we are only counting on a few. As an example,
Dried fruit sweets are typically types of dried fruit sweets. This candy can be made with a variety of dried fruits, including apricots, figs, dates, and raisins. The fig bar is one of the most popular types of dried fruit candy. Fig bars are typically made with fig stuffing, a mixture of sugar, flour, and spices. Then bake until golden in the oven.
Badam ki Bashar Chandni Anjeer malhar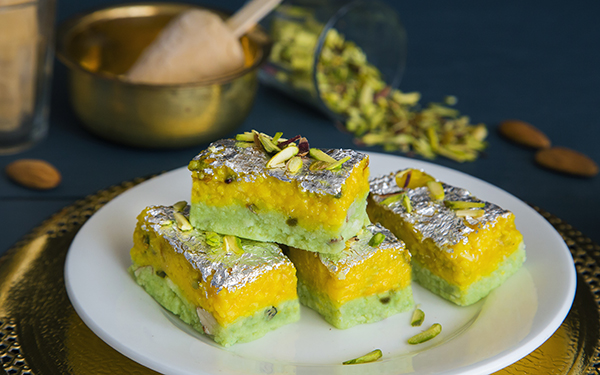 These are typically made with mawa, also known as khoya. Mawa is made by boiling milk for an extended period of time to evaporate the water in the milk, leaving only milk solids, which are then used in sweets to give them a sweet texture and taste. It can also be described as a flavour enhancer. Khoya can be found in almost every mithai in India because it is a widely used sweetening element; without it, a sweet is lacking in flavour. A variety of mawa sweets are available.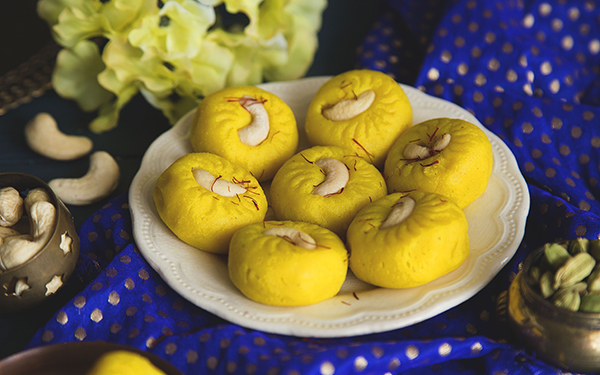 It is the next sweet on the list. Peda, also known as Pera, is a sweet dish from the Indian subcontinent. Its origins can be traced back to Mathura, Uttar Pradesh, India. It is typically prepared in thick, semi-soft pieces and contains khoa, sugar, and traditional flavourings such as cardamom seeds, pistachio nuts, and saffron. The following Pedas varieties are available: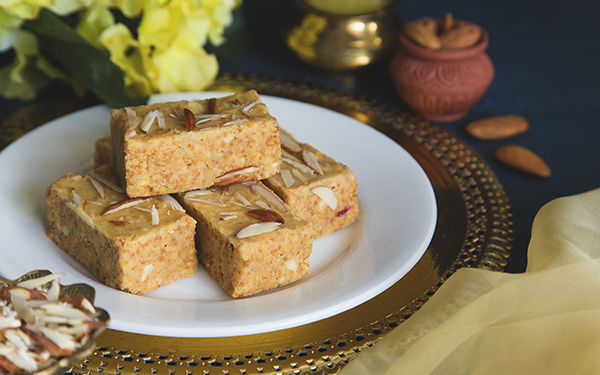 Aside from pedas, we also have desi ghee sweets. Desi ghee sweets are sweets that make extensive use of desi ghee, or clarified butter made from cow milk that originated in India. During Indian festivals, these desi ghee sweets are very popular. Because Indians believe that desi ghee-rich foods can help you become a healthier person, they created these desi ghee sweets. We have a large selection of desi ghee, and here are a few examples: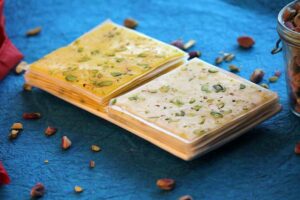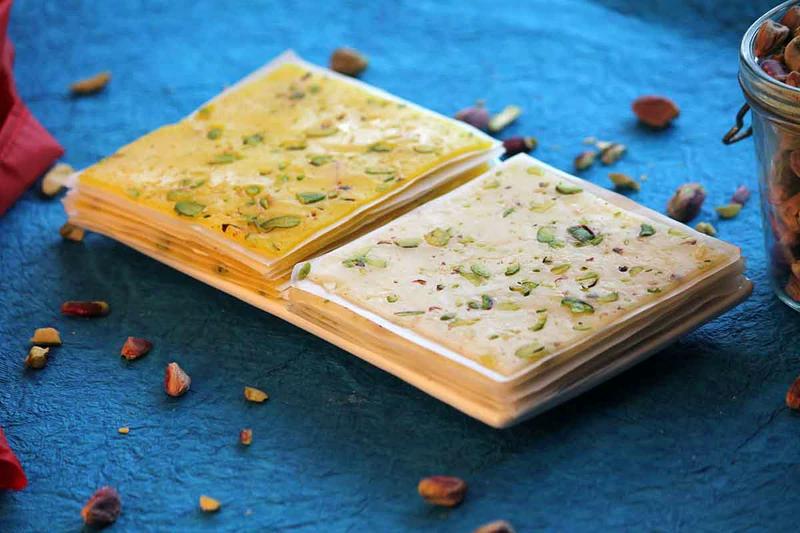 It is an Indian sweet (translated as "layered semolina sweet") named after the Mumbai neighbourhood of Mahim. Mahim halwa is another name for it. Also, It's a "unique confection of thin layers of sweet dough pressed into compact squares and separated by sheets of greaseproof paper."
Kesar Pista Ice Halwa Special
Why order from 24 Carat Mithai Magic
We at 24 carats sell a variety of sweets having different tastes, textures, and essence. There is a total of more than 200 sweets that are delivered by us, but we will discuss a few of our mitosis to give you insights into what all Mithas are delivered by us to cater to all your needs regarding any family functions or festivals.
When it comes to all occasions, mithais are always a must. If you want your occasion and festivities to go amazing and you're looking for a delicious way to enjoy Indian sweets, Then 24 Carat Mithai Magic is a perfect choice in this article, we have covered everything you need to know about meet his, through online ordering you can get mithais this easily at your home without any hustle of getting into lines and hustling for.
Instead, you can place your order through our website. As a result, many mithai shop owners are turning to a software website to help their business grow and expand. Stay tuned for more mithai-related articles in the meantime. This has caused a shift in the mithai industry, as everyone wants to be first and have the most orders. Order your sweets today to have them delivered anywhere in India and stay safe!
How to Order Online
Orders can be placed directly from the 24 Carat Mithai Magic Website, you can browse through all varieties of sweets available.
Delivery Areas: Explain which parts of India 24 Carats Mithai Magic delivers to.
We deliver sweets to every major city across India. Some of the top cities we deliver sweets at:
Delivery Timelines
Gujarat Order Day + 1 to 2 working days.
Rest of India Order Day + 4 to 5 working days.
Order your favourite Sweets Online to welcome this Navratri with a 24-Carat Mithai Magic shop