Navratri, also spelled Navaratri, is a Hindu festival celebrated every autumn. Goddess Durga is worshipped in nine different forms during the period of the nine nights (and 10 days) of Navratri. Every day of Navratri is devoted to a different form of the goddess Durga. Dussehra/Dasara is celebrated on the tenth day, symbolizing the triumph of good over evil.
Worshipping the goddess, playing dandiya, visiting family and friends to see golu (dolls display), wearing a different colour of clothing each day, and eating festive food are just a few of the many celebrations that take place during Navratri.
While it is time to celebrate, eat sweets, and enjoy Garba and dandiya, many people also observe a strict fast for the duration of the nine-day festival. As a result, these people are also interested in learning about the vrat ka khana, or fasting food list, which includes the types of food they can eat during this period.
In 83 years, 24 Carats Mithai Magic has grown to comprise a classic collection of 200 traditional Indian desserts in tune with contemporary tastes and delightfully rich quality.
24 Carat Mithai Magic: They have started delivering sweets across India by collaborating with various courier companies. The company is using innovative technology and an army of couriers to bring tasty treats to people who love them.
Presently, 24 Carats Mithai Magic has its roots in 5 different areas of Surat, Chauta Bazaar being the oldest.
The entire team of 24 Carats Mithai Magic believes in 'Atithi Devo Bhava'. Their focus is on building relations and carrying them forward for generations by providing the best quality and services.

White Barfi: Milk barfi, also known as milk powder burfi, is a delicious, soft yet sweet Indian dessert known as mithai. This barfi recipe requires only a few simple ingredients and is ideal for any special occasion, such as Eid.
The word barfi is used in both Hindi and Urdu. The word "barf" means "ice," and this recipe has a cool, melt-in-your-mouth texture, thus the name. It's also white!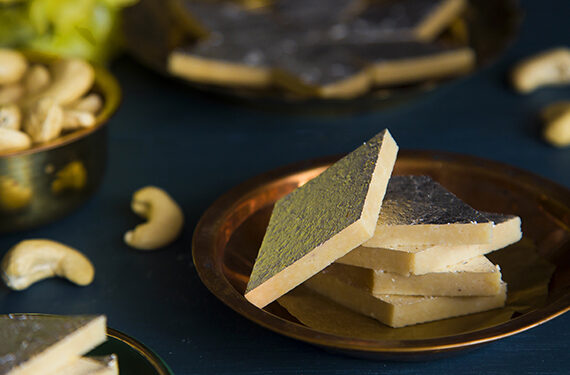 Kaju Katri: Kaju Katli is a traditional cashew fudge that is one of the most popular and well-liked Indian sweets. When we get a large box at home, it disappears in a matter of days.
If you stay in North India during Diwali, you may be given a box of Kaju katli or dry fruits as a gift. It is a popular sweet that is given to relatives and friends during the Diwali festival.
Kaju Burfi is another name for Kaju Katli. Kaju katli, on the other hand, should be thin, as opposed to thick burfi. Actually, the word katli means 'thin slices.'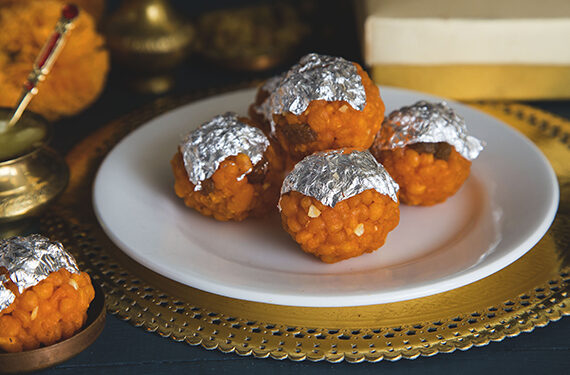 Motichur Laddu: Motichur laddu is a soft, delectable, melt-in-your-mouth ladoo made primarily of gramme flour, sugar, and spices. The gramme flour batter is fried to form tiny balls or boondi, which are then mixed with sugar syrup, nuts, or seeds and formed into neat round balls. Motichoor ladoo is a popular North Indian sweet that is frequently made during festivals or celebrations.
Laddu or ladoo are sweetened round balls made of flour, sugar, and ghee or oil. There are also some nuts and flavourings. Laddu recipes in Indian cuisine are made with various ingredients and cooking methods.
Gram flour, semolina (Rava), whole wheat flour, various millet flours, and lentils are the most common flours used to make laddu.
Besan Ladoo: Besan Ladoo, also known as Besan Ke Laddu, is a popular Indian sweet made with gramme flour, powdered sugar, and clarified butter (ghee). These round sweet balls, also known as Besan Ke Laddu, are made by roasting gramme flour and ghee together, then adding sugar to make a thick pasty dough, which is then formed into delicious, melt-in-your-mouth balls.
Mysore Pak: Mysore Pak is a ghee-based Indian sweet. It began in Mysore, one of the major cities in the Indian state of Karnataka. It is made with a lot of ghee, sugar, gramme flour, and sometimes cardamom. This dessert has the texture of a buttery, dense cookie.
In southern India, it is prepared and served at weddings and other festivals, including baby showers.
It is made with a lot of ghee, sugar, gramme flour, and sometimes cardamom. This dessert has the texture of a buttery, dense cookie.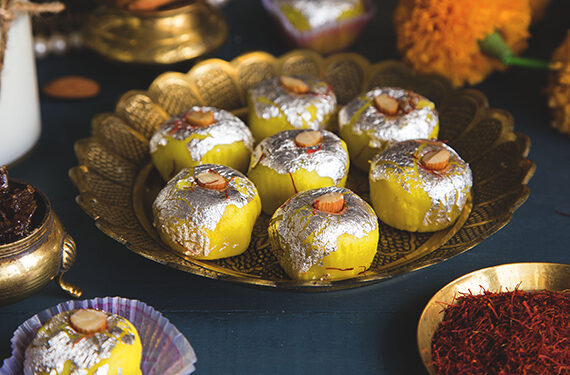 Rajbhog: Rajbhog, similar to Rasgulla, is a popular Bengali sweet. Rajbhog is traditionally prepared during festivals and celebrations. Rajbhog is made with soft fresh paneer, and saffron, and stuffed with a mixture of dry fruits. It is served chilled or at room temperature.
Rajbhog is a larger version of Rasgulla, which is yellow. Because making Rajbhog is very similar to making Rasgulla. This sweet was made for the Kings in the past and consisted of various nuts and dry fruits. Saffron, which was only available to the wealthy, was used to prepare this sweet, giving it a vibrant flavour and earning it the name Rajbhog.
Gajar ka Halwa: Gajar ka halwa is a carrot-based sweet dessert pudding from Punjab. It is also known as gajorer halua, gajrela, gajar pak, and carrot halwa. It is made by combining grated carrots with a specific amount of water, milk, sugar, and cardamom in a pot and cooking while stirring frequently. It is frequently garnished with almonds and pistachios. The nuts and other ingredients are first sautéed in ghee, an Indian subcontinent clarified butter.
The dessert is traditionally eaten during all Indian festivals, particularly Diwali, Holi, Eid al-Fitr, and Raksha Bandhan. During the winter, it is served hot.
Gajar ka halwa is made with nuts, milk, sugar, khoya, and ghee, as well as grated carrot. It is a light, nutritious dessert with less fat (a minimum of 10.03% and an average of 12.19%) than many other popular Indian desserts. Because gajar halwa has a medium shelf life, it is now occasionally exported.
Many people prefer vegetarian dishes and desserts in their Thali during the festival season. Gajar ka halwa is a popular dessert throughout India due to its low-fat content, vegetarian characteristics, ease of preparation, medium shelf-life, and taste. The dish is popular with both adults and children.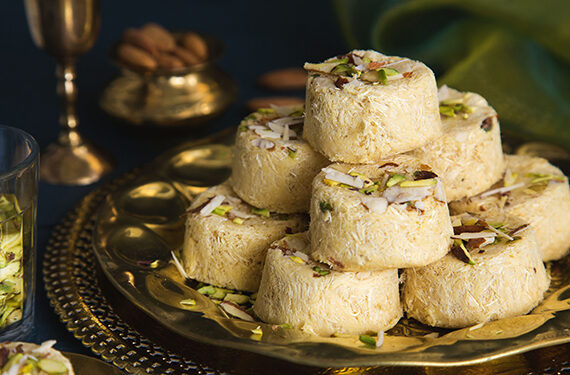 Soan papdi: Soan papdi (also spelt san papri, shompapri, Sohan papdi, shonpapdi, or patina) is a popular Indian dessert. The term "sohan" is Persian in origin. It is related to the Persian sohan pashmaki, which inspired the Turkish pişmaniye. It has a crisp and flaky texture and is usually served cube-shaped or as flakes. Previously sold loose in rolled paper cones, modern industrial production has resulted in it being sold in tightly formed cubes.
Sugar, gramme flour, flour, ghee, almond, milk, and cardamom are the main ingredients.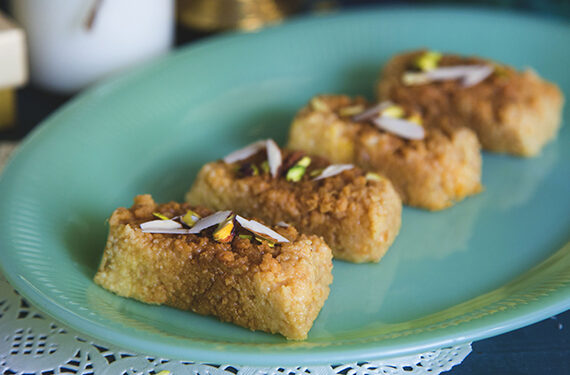 Milk Cake: Milk cake is a traditional Indian sweet made with milk, sugar, and cardamom powder. This is ideal for special occasions.
This rich and decadent caramelised milk fudge, made with ricotta cheese and milk powder and flavoured with pistachios, cardamom, and rose water, is known as Alwar Ka Mawa in India. In just 15 minutes, this quick and easy recipe achieves an authentic taste!
Milk Cake is a traditional Indian milk fudge made with milk, sugar, ghee, and an acidic agent like lemon juice.
Kalakand: Kalakand is a popular sweet milk and cheese dessert in northern and eastern India. It's coated with almonds and prepared using paneer, whole milk, sugar, and cardamom powder. This dish is typically served in individual servings that are square in shape. This sweet is extremely popular in Indian Mithai stores.
A sweet maker in Alwar, Rajasthan, produced this Indian milk dish, and another creamy form of Kalakand, which originated in Koderma, Bihar, is also well-known.
Kalakand is one of India's most popular sweets, and for good reason. This creamy, dreamy milk cake is completely addictive.
You'd never guess that this milk cake is perfectly sweet, creamy, moist, and granular.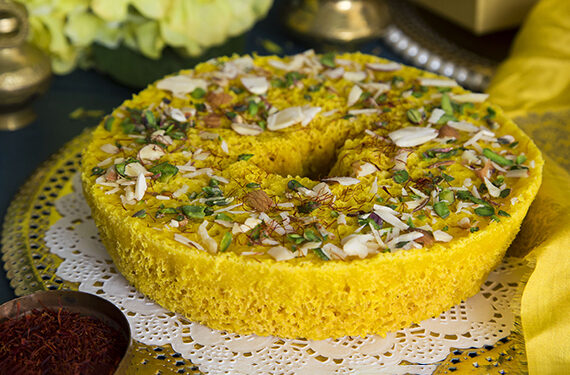 Ghevar: Ghevar is a disc-shaped Rajasthani sweet made of ghee, flour, and sugar syrup. It is traditionally associated with the month of Shravan and the festivals of Teej and Raksha Bandhan. Apart from Rajasthan, it is well-known in the neighbouring states of Haryana, Delhi, Gujarat, Uttar Pradesh, and Madhya Pradesh.
Ghevar is a disc-shaped sugar-soaked sweet cake made with [Besan] (refined chickpea flour). A batter is made by combining flour, ghee, milk, and water. The sweet is fried into a golden honeycomb-like disc after the batter is fried in ghee. Spices and nuts are popular toppings.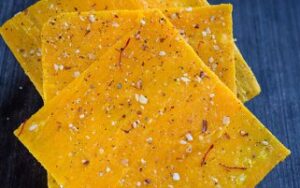 Ice Halwa: Ice Halwa, a popular sweet delicacy in India, is something we cannot miss. The adage "don't judge a book by its cover" applies perfectly to ice halwa, which is not made of ice. While the idea of a cold halwa dish may appeal to you, ice halwa is a delicious variation on the classic dish, and its colour and preparation are what give it its name. Because it is sprinkled with icing sugar, ice halwa is ivory in color. Since it has rested for up to four hours before serving, the combination has a rich, creamy, and delicious texture.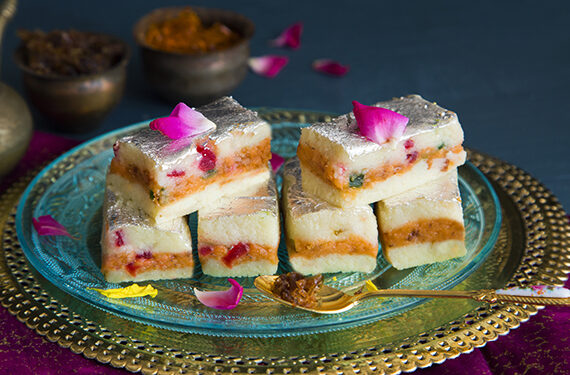 Kaju Gulkand: A sugared rose petal delicacy that gives us chills is undoubtedly one of India's most popular sweets. Gulkand is one of the most popular delicacies when combined with Kaju. Aside from being delicious, it is great for having in the summer months.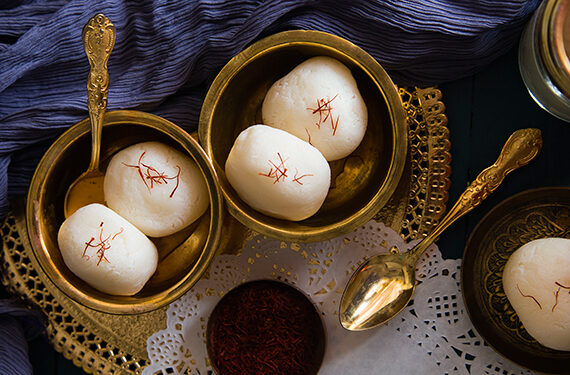 Rasgulla: It's hard to decide whether the syrup-soaked balls or the rich, sweet syrup itself are the best part of this dish! These little balls are created throughout the Indian Subcontinent, but Bengalis prefer them the most. They are soaked in sugar syrup after being boiled in water until light and spongy. Because the balls are chilled for a couple of hours before serving, you may make this ahead of time and store it.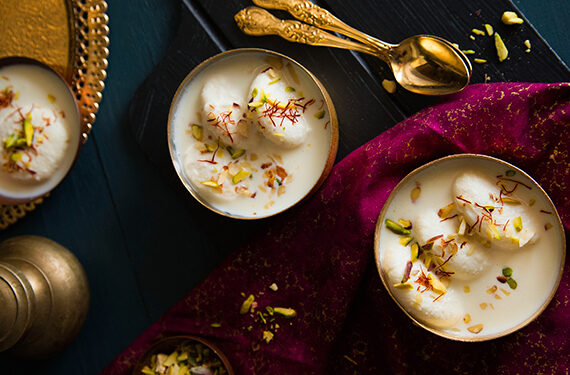 Rasmalai: Soft, spongy dumplings made of chenna or paneer are soaked in thick, creamy milk in the popular ras malai. Allowing yourself a bowl of this delicious sweet to treat yourself does not hurt in the summer. Few desserts taste as good as chilled ras malai with saffron and cardamom infusion.
Aside from the listed sweets, there are numerous other sweets that provide us with lip-smacking satisfaction when eaten in the right combinations. From special orange, pineapple, raspberry, and many other summer fruit sweets to our all-time favourite Kaju Katri in various flavours, as well as other dry fruit sweets, 24-carat mithai shop has it all. Bengali sweets such as rajbhog and various types of Rabdis hit you differently, whereas pure desi ghee sweets such as Mohanthal, Motipak, and Dahithara provide you with all the energy you require!
Order Sweets Online from 24 Carat Mithai Magic to satisfy your sweet tooth and enjoy this festival of Navratri with your family.