Indian Sweets are a delicious and popular part of the country's cuisine. They are frequently offered at special events like weddings and festivals and come in a variety of forms, sizes, and colors. Milk, sugar, spices, fruits, and other ingredients are used to make a variety of Indian sweets. Even while individuals of all ages may enjoy them, kids in particular love them.
In recent years, the trend of ordering sweets online has exploded in popularity. There are now a variety of websites that allow users to order their favourite desserts with just a few clicks. This convenience has made sweets ordering one of the most popular online activities.
This article will help you to choose the Best Indian Sweets Ordering websites in Edison, New Jersey.
Sweets in New Jersey
Some of the most popular Indian sweets in New Jersey include Buscuit, Farsi Puri, and Balu Shahi. The ingredients for these delicious sweets usually include milk, sugar, and spices like cardamom and saffron. They can be taken with tea or coffee or on their own.
There are so many different types of sweets and snacks that it can be hard to keep track of them all! But don't worry, we're here to help. Here are some of the famous Indian sweets in New Jersey.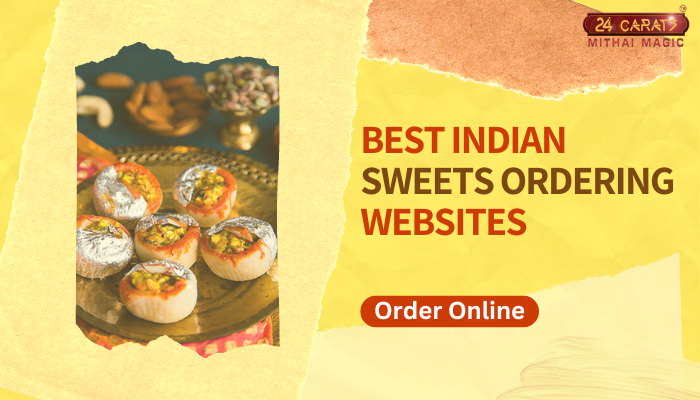 Top 10 Indian sweets ordering websites in New Jersey:
1. 24 Carat Mithai Magic
From the start, we have been on a continuous journey to delight each customer who visits our abode. It is our goal to provide the most demanding customers with memorable, magical sweets that deliver the best of taste and discover a luxury experience found only in Surat, and only at 24 Carats.
In a span of 83 years, 24 Carats Mithai Magic has grown to comprise a classic collection of 200 traditional Indian desserts in tune with contemporary tastes and delightfully rich quality
So why are you still waiting? Order Indian Sweets Online in New Jersey from 24 Carat Mithai Magic.
2. Bikaner Vala USA
A strong desire to share good taste to a larger audience, recipes passed down through the years as valuable family treasures, and a near missionary zeal to leave an everlasting impression all contribute to the traditional flavor that dates back several generations. All of these elements are there in equal proportion in the Bikanervala story.
Two adventurous sweet makers travelled from their hometown of Bikaner to India's busy capital city fifty years ago. They brought with them the know-how for producing sweets as well as the zeal to provide people who had only before encountered quite distinct savouries with a very different gastronomic experience. After India, the United Arab Emirates, New Zealand, Nepal, and New Zealand, Bikanerwala is now ready to have a significant impact on the United States.
3. Cartloot
The prime objective behind this e-commerce website is to promote Indian Food Online in New Jersey as well as all over the world at low prices. Everyone loves to do online shopping and that too at the best deals.
Cartloot is here with an amazing collection of Indian Grocery Online which you can buy in New Jersey online and satisfy your hunger for Indian Food.
4. Quality Sweets
There's nothing like a sweet treat to make your day better. And when those sweets come from Quality Sweets, they're sure to be even sweeter.
Quality Sweets is a New Jersey-based online retailer specializing in Indian sweets. With a wide variety of options to choose from, Quality Sweets has something for everyone.
Whether you're looking for traditional Indian Sweets like Peda and Akhrot Plaza or something a little more modern like chocolate truffle cake, Quality Sweets has it all. And because all of their sweets are made fresh to order, you can be sure you're getting the best possible product.

5. Sukhadia's
Sukhadia is a luxury Indian sweet, snacks, and cuisine maker and retailer. As a family-run company with the parrot brand, we ensure the quality, consistency, and perfection of home-cooked meals across the country.
Sukhadia's is a company with more than thirty years of history in the US, having retail outlets in North Carolina, Chicago, and New Jersey.
6. Mithaas
Mithaas is the first restaurant in New Jersey to transform traditional Indian fast food into a modern dining experience. We serve the most authentic Street Food, Chaat, North & South Indian delicacies, traditional Indian Mithai, and Desserts.
All our dishes and sweets are made from the finest ingredients right here in our kitchens. We ship Mithai all over the country.
7. Chowratty
When it comes to the Sweet and Snacks shop, Chowpatty has set a new gold standard. Not only do we carry over 300 varieties–the largest variety of sweets in the industry–we provide the highest quality product.
From our fresh daily snacks to our big choice of sweets all made in house, we provide a wide range of products that are sweet. We provide expeditious, nationwide shipping through our partners Fedex and UPS to make our products accessible to anyone and everyone.
8. Sweedesi
Send sweets as gifts to your loved ones Internationally (USA, Canada, United Kingdom, UAE, Dubai, Australia, Japan, Germany, etc.). To ensure your order reaches you on time and in good condition, Sweedesi have a tie-up with reputed courier services. They ship throughout the week during normal working hours except Sundays and Public holidays.
Sweedesi understand that food tastes best when served fresh and right out of the kitchen. So, their shipments are sent via Express delivery service to reach the destination as soon as possible. Usually, the parcel reaches its destination in 5 – 7 working days after dispatch from the authentic brand/seller.
9. Sweetkadai
Sweetkadai sells a wide range of traditional and contemporary Indian sweets that can be shipped throughout the state. Whether you're looking for something to give as a gift, Sweetkadai has something for everyone.
Their founders say that they wanted to create a convenient way for people to enjoy Indian sweets without having to travel to shop.
Customers have been extremely positive so far, with many sharing their delight at having access to such a diverse selection of delicious sweets. If you're looking for a unique way to sweeten up your life, be sure to check out Sweedesi today!
10. janakifoods
Thanks to Janki Foods, ordering Indian sweets in New Jersey has never been simpler. For more than 20 years, this family-run business has served up delectable treats, and they are now offering door-to-door delivery.
There is something for everyone at Janki Foods, from age-old favourites like Kaju Katli to fresh takes on old favourites like their Badam Katli. You can also have your delicious treats delivered right to your home by using their convenient online ordering system.
Why then wait? From the comfort of your home, get your favourite Indian sweets from Janki Foods and savour the flavour of freshly made sweetness.
Best Indian Sweets in New Jersey
In conclusion, 24 carats is the Best Indian Sweets Supplier in New Jersey. They offer a wide variety of sweets that are sure to satisfy any sweet tooth.
They also have a great selection of savoury items for those who do not enjoy sweets. 24 carats is the perfect place to Order Indian Sweets in New Jersey.
Must Read: 5 best websites to order indian sweets in atlanta