Diwali, the festival of lights is one of the most awaited and biggest festivals in India. It is celebrated with great pomp and show and is a five-day-long celebration. The main highlight of Diwali is the decoration of houses with lights and diyas, fireworks, feasting, and exchanging gifts. Another significant part of this festival is the preparation of mouth-watering sweets which are an integral part of every Indian household during Diwali.
There are a variety of Diwali sweets that are prepared across India depending on the region.
Why buy Diwali sweets online?
The festival of Diwali is celebrated with great fanfare all across India. One of the main attractions of the festival is the exchange of sweets and snacks between family and friends. While in the past, people would have to go to their local sweet shop to pick up their favourite Diwali sweets, these days it is easier than ever to buy Diwali sweets online.
There are many advantages to buying Diwali sweets online. First of all, you can find a much wider selection of sweets and snacks than you would at your local sweet shop. You can also order from the comfort of your own home, and have the sweets delivered right to your doorstep. And last but not least, you can often get a better price on Diwali sweets when you buy them online.
The benefits of buying from 24 Carat Mithai Magic
When it comes to buying Diwali sweets, there are many benefits to going with 24 Carat Mithai Magic. For starters, they have a wide variety of sweets to choose from. Whether you are looking for something traditional or something more modern, they are sure to have what you are looking for.
In addition to our large selection, another benefit of choosing 24 Carat Mithai Magic is that their sweets are always fresh. We make all of their sweets in small batches so that We can ensure each one is as fresh as possible. This means that you won't have to worry about eating something that has been sitting on a shelf for weeks.
Finally, when you order from 24 Carat Mithai Magic, you can be sure that your order will be handled with care.
What are the different types of sweets traditionally eaten during Diwali?
There are many traditional sweets that are eaten during Diwali. Some of these sweets include ladoo, barfi, halwa, and jalebi. Each of these sweets has a different flavour and is made with different ingredients.
Here are some of the various types of sweets that are traditionally eaten during this festival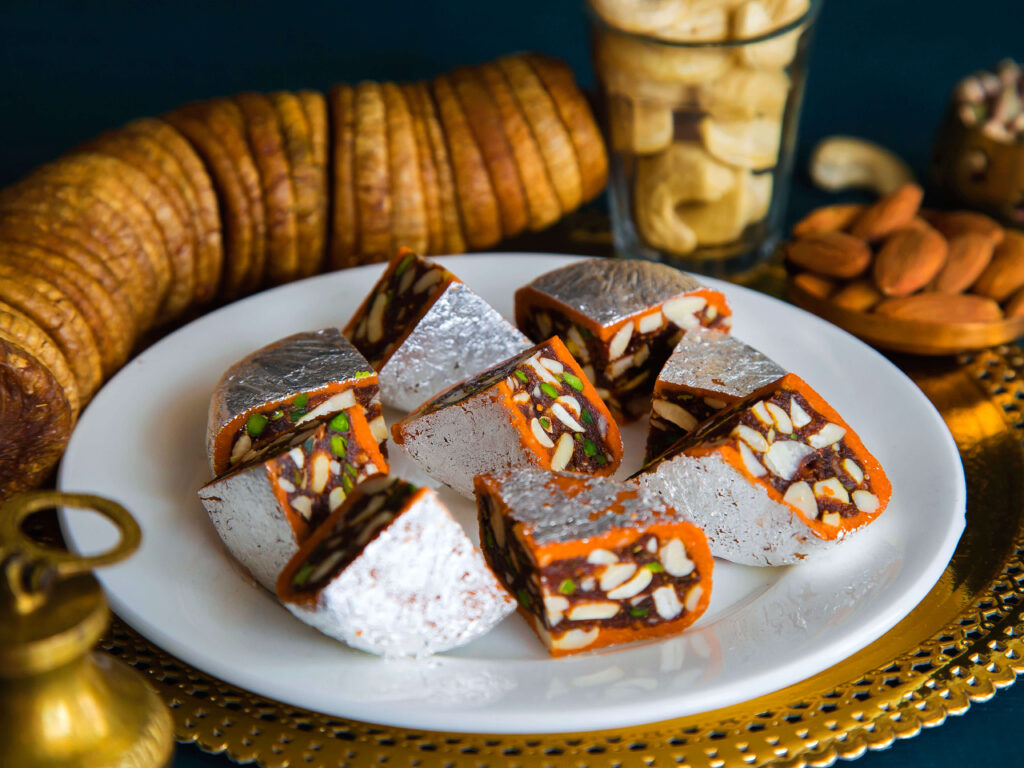 Anjeer Karishma is a delicious Indian sweet made with figs and pistachios. It is perfect for celebrations like Diwali.
This sweet is made with natural ingredients and does not contain any preservatives. The figs are dried and then ground into a paste. The pistachios are also ground into a paste. These two pastes are mixed together and shaped into balls. They are then coated with sugar syrup and dried in the sun.
The final product is a sweet, moist, and crunchy treat that is perfect for sharing with friends and family during Diwali celebrations. Order your Anjeer Karishma today and enjoy the sweetness of this traditional Indian treat!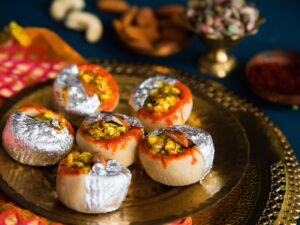 Anjeer Malhar is one of the traditional sweets made during Diwali, the Indian festival of lights. It is made with a mixture of dried fruits and nuts, and has a sweet and rich flavour. We offer a variety of other sweets as well, all made with natural ingredients and without any preservatives. The rich and delicious taste of Anjeer Malhar is ideal for a sweet tooth. It is rich in nutrients and has no artificial ingredients. This soft and moist dessert can be enjoyed by anyone who loves sweets.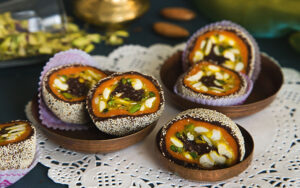 Anjir rolls are one of the most popular sweets served during Diwali, the Hindu festival of lights. These delicacies are made with wheat flour, semolina, ghee, and sugar, and they're often filled with a sweet mixture of almonds, pistachios, and cashews.
If you're looking for a delicious treat to share with your friends and family this Diwali, look no further than 24 Carat Mithai Magic's anjir rolls. Our anjir rolls are made with only the finest ingredients and are sure to satisfy everyone's sweet tooth. Order your anjir rolls today and make this Diwali one to remember!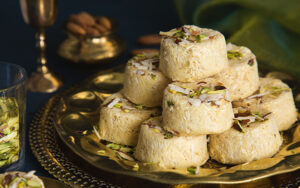 This traditional Indian dessert is made from a base of condensed milk, sugar, and flour, and is then formed into delicate little honeycomb-shaped pieces. While sonpapdi may be enjoyed any time of year, it is especially popular during Diwali, when families come together to feast and exchange gifts.
Our sonpapdi is made with only the finest ingredients and comes in a beautiful gold-foil box that makes it perfect for gifting. So why not order some golden sonpapdi today and enjoy the sweetness of victory this Diwali?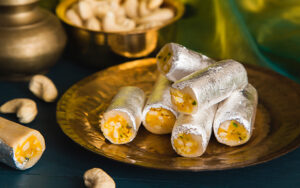 Kaju roll is a bite-sized dessert that is perfect for sharing. These little rolls are made with cashews and sweetened with sugar. They are then rolled in festive colours and can be enjoyed as is or dipped in chocolate.
If you are looking for a unique dessert to share this Diwali, a kaju roll is a perfect treat. With our convenient online ordering, you can enjoy these delicious sweets without even leaving your home.
The range of Diwali sweets available
There is a huge range of Diwali sweets available, from traditional to modern.
Traditional Diwali sweets include ladoo, barfi, and halwa. These sweet treats are made with ingredients like flour, milk, sugar, ghee, and nuts. They are often very rich and heavy and can be hard to find outside of India.
Modern Diwali sweets include cakes, cookies, and chocolates. These sweets are often lighter and less sweet than traditional Indian sweets. They are easier to find outside of India and are becoming more popular among Indians as well.
How to order Diwali sweets online
There's no need to be anxious about where to find the best Diwali sweets this year. You can easily order them online from 24 Carat Mithai Magic. Here's how:
First, browse through the website and take a look at all of the delicious options. You'll be able to find traditional favourites like gulab jamun and rasgulla, as well as more unique offerings like pistachio burfi and almond halwa.
Next, narrow down your choices by selecting the type of sweets you want, the quantity you need, and whether you want them delivered fresh or frozen. Once you've made your selections, add them to your cart and proceed to checkout.
At checkout, you'll be asked to provide your contact and delivery information. Be sure to double-check that everything is correct before submitting your order.
The advantages of buying Diwali sweets online
When it comes to buying Diwali sweets, many people prefer to buy them online. There are several advantages to doing so. Perhaps the most obvious advantage is that it is more convenient than going to a store. You can do it from the comfort of your own home and have the sweets delivered right to your door.
Another advantage of buying sweets online is that you have a much wider selection to choose from. When you shop in a physical store, you are limited to whatever they happen to have in stock. But when you shop online, you can find almost any type of sweet you could want. And if you're looking for something truly unique, there are even custom-made options available.
Finally, buying sweets online can often be cheaper than buying them in a store.
Final Thoughts
So what are you waiting for? Order your Diwali sweets online from 24 Carat Mithai Magic today and make this festive season even sweeter!