What is Dusshera and why order sweets online?
Dussehra, the festival that celebrates the triumph of good over evil, is one of the most important Indian festivals. It falls on the tenth day of Navaratri. This festival celebrates Lord Rama's victory over the demon Ravana. This holy festival is an opportunity to extol Lord Rama's virtues, who is thought to be an incarnation of Lord Vishnu (the Hindu Trinity's 'Preserver' god). Dussehra strengthens devotees' vows to follow Lord Rama's path and deeds.
Dussehra is traditionally celebrated by torching the effigies of Ravana, Meghanatha, and Kumbhakarna. With this burning, the play Ramleela, which depicts the Ramayana, also comes to an end. A fete is usually organised for the people. Three people dressed as Rama, Lakshamana, and Sita riding on a chariot pass through the crowd. The artist playing Rama directs the arrow to burn each of the three effigies separately.
Dussehra celebrations will begin soon and now is the time to stock up on Dussehra sweets to serve your guests or enjoy with your family to commemorate the festival. The nine days of Navratri, culminating in Dussehra, are filled with rituals, traditions, and, of course, delicious treats. No Indian celebration is complete without a platter of our favourite sweets. Dussehra is a time when you get together with your friends and relatives to celebrate. In India, sweets are frequently prepared to commemorate an auspicious occasion and to bring good luck. These Dussehra sweets make wonderful gifts, can be served as Prasad for the Pooja, or simply enjoyed to brighten your day.
What is 24-carat mithai magic?
In 83 years, 24 Carats Mithai Magic has grown to comprise a classic collection of 200 traditional Indian desserts in tune with contemporary tastes and delightfully rich quality.
It is our main aim is to provide our demanding customers with memorable, magical sweets that deliver the best of taste and discover a luxury experience found only in Surat, and only at 24 Carats.
Varieties Of Sweets that we deliver
We at 24 carats sell a variety of sweets having different tastes, textures, and essence. We deliver over 200 sweets in total, but we will discuss a few of our mitosis to give you an idea of what all Mithas are delivered by us to cater to all of your needs for any family functions or festivals.
The Benefits of ordering from 24-carat mithai magic
This has always been a challenge for our customers: how to best capture the world of desserts?
That is, 24 Carat Mithai Magic? It's a smile — and a welcome that makes one customer feel like royalty. For another, it's discovering a new flavour that melts in the mouth and leaves a sweet aftertaste.
Small details that few others notice — the extra care in the simplest sweet — are important to some. And for many, we become a part of their celebrations in the form of the box of love!
Quality and innovation have become synonymous with the brand. Surat has five flagship locations: Parle Point, Chauta Bazar, Pal, Ring Road, and Varachha.
The entire 24 Carats Mithai Magic team believes in 'Atithi Devo Bhava.' Their focus is on developing relationships and passing them down through generations by providing the highest quality and services.
 The Different Types of Sweets Available
Soan papdi (also spelled san papri, shompapri, sohan papdi, shonpapdi, or patisa) is a popular Indian dessert. The term "sohan" is Persian in origin. It is related to the Persian sohan pashmaki, which inspired the Turkish pişmaniye. It has a crisp and flaky texture and is usually served cube-shaped or as flakes. Previously sold loose in rolled paper cones, modern industrial production has resulted in it being sold in tightly formed cubes.Sugar, gramme flour, flour, ghee, almond, milk, and cardamom are the main ingredients.

Milk cake is a traditional Indian sweet made with milk, sugar, and cardamom powder. This is ideal for special occasions. This rich and decadent caramelised milk fudge, made with ricotta cheese and milk powder and flavoured with pistachios, cardamom, and rose water, is known as Alwar Ka Mawa in India. In just 15 minutes, this quick and easy recipe achieves an authentic taste.

Kalakand:

Kalakand is a popular sweet milk and cheese dessert in northern and eastern India. It's made with paneer, whole milk, sugar, and cardamom powder, and it's topped with nuts. This dish is typically served in individual servings that are square in shape. This sweet is extremely popular in Indian Mithai stores.

Ghevar is a disc-shaped Rajasthani sweet made of ghee, flour, and sugar syrup. It is traditionally associated with the month of Shravan and the festivals of Teej and Raksha Bandhan. Apart from Rajasthan, it is well known in the neighbouring states of Haryana, Delhi, Gujarat, Uttar Pradesh, and Madhya Pradesh.

Milk barfi, also known as milk powder burfi, is a delicious, soft yet sweet Indian dessert known as mithai. This barfi recipe requires only a few simple ingredients and is ideal for any special occasion, such as Eid. The word barfi is used in both Hindi and Urdu. The word "barf" means "ice," and this recipe has a cool, melt-in-your-mouth texture, thus the name. It's also white!

Kaju Katli is a traditional cashew fudge that is one of the most popular and well-liked Indian sweets. When we get a large box at home, it disappears in a matter of days. If you stay in North India during Diwali, you may be given a box of kaju katli or dry fruits as a gift. Kaju katli is a popular sweet that is given to relatives and friends during the Diwali festival. Kaju Burfi is another name for Kaju Katli. Kaju katli, on the other hand, should be thin, as opposed to thick burfi. Actually, the word katli means 'thin slices.'

Motichur laddu is a soft, delectable, melt-in-your-mouth ladoo made primarily of gramme flour, sugar, and spices. The gramme flour batter is fried to form tiny balls or boondi, which are then mixed with sugar syrup, nuts, or seeds and formed into neat round balls. Motichoor ladoo is a popular North Indian sweet that is frequently made during festivals or celebrations. Laddu or ladoo are sweetened round balls made of flour, sugar, and ghee or oil. There are also some nuts and flavourings. Laddu recipes in Indian cuisine are made with various ingredients and cooking methods. Gram flour, semolina (rava), whole wheat flour, various millet flours, and lentils are the most common flours used to make laddu.

Besan Ladoo, also known as Besan ke Laddu, is a popular Indian sweet made with gramme flour, powdered sugar, and clarified butter (ghee). These round sweet balls, also known as Besan ke Laddu, are made by roasting gramme flour and ghee together, then adding sugar to make a thick pasty dough, which is then formed into delicious, melt-in-your-mouth balls.

Mysore pak is a ghee-based Indian sweet. It began in Mysore, one of the major cities in the Indian state of Karnataka. It is made with a lot of ghee, sugar, gramme flour, and sometimes cardamom. This dessert has the texture of a buttery, dense cookie. In southern India, it is prepared and served at weddings and other festivals, including baby showers. It is made with a lot of ghee, sugar, gramme flour, and sometimes cardamom. This dessert has the texture of a buttery, dense cookie.

Rajbhog, similar to Rasgulla, is a popular Bengali sweet. Traditionally, Rajbhog is prepared for festivals and celebrations. Rajbhog is stuffed with a mixture of dry fruits and made with soft fresh paneer and saffron. It can be served cold or at room temperature.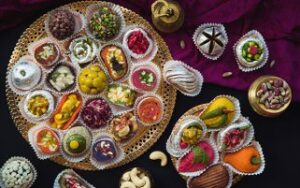 How to order from 24-carat mithai magic
You can browse all of the available sweet varieties on the 24 Carat Mithai Magic website and place orders directly from there. We deliver sweets to every major city across India.
Delivery Timelines
Gujarat Order Day + 1 to 2 working days.
Rest of India Order Day + 4 to 5 working days.
24 Carats Sweets ("we" and "us") is the operator of (https://www.24caratssweets.com/) ("Website"). By placing an order through this Website, you will be agreeing to the terms. These are provided to ensure both parties are aware of and agree upon this arrangement to mutually protect and set expectations on our service.
Why you should order from 24-carat mithai magic this Dusshera
Mithais are always essential when it comes to all occasions. Just like without a cake birthday are incomplete your Indian celebrations were incomplete without these mithais so if you want your occasion and festivities to go amazing and you're looking for a delicious way to enjoy Indian sweets, Mithai Magic is a perfect choice and in this article, we have covered everything you need to know about meet his, through online ordering you can get mithais this easily at your home without any hustle of getting into lines and hustling for best sweets.
Instead, you can order through our online website. Through this many mithai shop owners are turning towards getting a software website for their business to have growth and expand. Till then stay tuned to furthermore articles related to mithais. This has turned out to be a change in the mithai sector as everyone wants to be first and have the most orders. Order Your Sweets Today to Get It Delivered Across India and Stay safe!